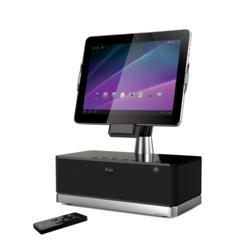 Port Washington, NY (PRWEB) December 12, 2011
iLuv Creative Technology, the premier provider of the most comprehensive line of accessories for the mobile lifestyle, introduces the worlds first and only audio docking station for Samsung GALAXY Tablets, the iSM524, ArtStation Pro. The iSM524 combines superior aesthetic design with cinematic sound quality to heighten your Samsung GALAXY Tab experience.
iLuv is the only mobile accessories innovator to deliver an audio docking system that unleashes the full potential of the Samsung GALAXY Tab and transforms the tablet into a home entertainment center that enables users to easily and comfortably enjoy music, movies, TV shows and more. The ArtStation Pro is the result of the Designed for Samsung Mobile strategic partnership between iLuv and Samsung, which brings to the market highly differentiated accessories solutions with unquestionable value for Samsung GALAXY mobile devices.
At iLuv, we continually strive to anticipate and deliver the most comprehensive range of feature-rich solutions for every facet of the mobile lifestyle, said Pia Chon, marketing director at iLuv. We are proud of our partnership with Samsung, and of the fact that we are the first and only company to offer an audio dock for the GALAXY Tab series.The ArtStation Pro for GALAXY Tab is truly a testament to iLuvs design and engineering prowess and enhances the Samsung GALAXY Tab beautifully.
The ArtStation Pro (iSM524)complements the Samsung GALAXY Tablet line with a sleek design that can fit in with any d